Top Ten Martial Arts Movies
Many forms of martial arts understandably began as methods of attack and defense, but as the stylish nature of Wushu and others have demonstrated, they can also be excellent forms of entertainment. Many stellar movies have featured incredible martial arts over the years, winning awards and recognition as well as fandom.
Great Martial Arts Movies
From Wing Chun to Jeet Kune Do, the All Valley Tournament to the Kumite, the terminology introduced in many of the most popular and most influential martial arts movies have become part of the common vernacular. The amazing choreography and fight sequences are well balanced with engaging story lines in the following films.
Enter the Dragon (1973)
No list of the best martial arts movies would be complete without including at least one iconic entry from the legendary Bruce Lee. Showcasing his signature Jeet Kune Do, Bruce Lee stars as a spy who enters a tournament to gain inside knowledge on an evil crime boss. Some of Lee's best known scenes of his career are from Enter the Dragon, which has exerted its powerful influence and legacy for the last four decades. Selected for preservation by the National Film Registry, Enter the Dragon is considered not only one of Bruce Lee's best movies, but "one of the best martial arts films of all time, if not the best." Fans of Bruce Lee and the dubbed kung-fu movies of the 70s will love this film.
The Legend of Drunken Master (1994)
While Drunken Master II, the sequel to 1978's Drunken Master, was released as a Hong Kong film in 1994, it was re-released for the North American market in 2000 as The Legend of Drunken Master. It stars Jackie Chan as Chinese folk hero Wong Fei-Hung utilizing a style of kung-fu known as drunken boxing. The story surrounds a group of foreigners who want to take ancient artifacts out of China and their battle with those who want the relics to stay. For viewers who want to see Jackie Chan before he became a big Hollywood star, this is the movie to watch. The incredible stunts earned the movie the Hong Kong Film Award for Best Action Choreography, representing one of Jackie Chan's finest works.
Bloodsport (1988)
The late 80s and early 90s marked the height of Jean-Claude Van Damme's action career. One of his most memorable roles was his portrayal of Frank Dux in Bloodsport. Indeed, Ultimate Action Movie Club's review proclaimed the film "the Magnum Opus in the career of the Muscles from Brussels." A variety of martial arts are on display here, including Muay Thai and Sumo, as multiple combatants participate in the underground and sometimes lethal Kumite tournament. Not for the feint of heart, Bloodsport features particularly brutal fighting.
The Karate Kid (1984)
The Karate Kid stars Ralph Macchio as Daniel, a young boy who is bullied by his peers and seeks the instruction of Master Miyagi, a humble handyman who turns out to be a martial arts master. Daniel enters the All Valley Tournament to face off against his tormentors from the Cobra Kai dojo. The Karate Kid is a beloved film of the 80s that saw Pat Morita earn a Golden Globe nomination for best supporting actor.
Crouching Tiger, Hidden Dragon (2000)
An epic film of grand and beautiful proportions, Crouching Tiger, Hidden Dragon is a love story at heart, directed by Ang Lee and set in Qing Dynasty China. Two skilled kung-fu warriors, played by Chow Yun-Fat and Michelle Yeoh, pursue the person who stole an important sword, running across rooftops, floating through the air and engaging in skilled battles. Those seeking a more artistic and story-driven martial arts movie will enjoy Crouching Tiger, which won four Academy Awards including Best Foreign Language Film.
Kill Bill, Volume 1 (2003)
After awaking from a coma and learning that a team of assassins has betrayed her, The Bride (played by Uma Thurman) seeks to extract her revenge. Featuring outlandish kung-fu techniques like the three-inch punch and the five-point palm exploding heart, Kill Bill, Volume 1 features Quentin Tarantino's signature style with over-the-top theatrics and a heart-thumping score. The film, which earned a perfect four-star review from Roger Ebert, at once parodies and pays homage to older kung-fu movies. Uma Thurman and Lucy Liu won the 2004 MTV Movie Awards for Best Female Performance and Best Villain, respectively.
Once Upon a Time in China (1991)
Jackie Chan is not the only person to have portrayed folk hero Wong Fei-Hung. In Once Upon a Time in China, Jet Li takes on the iconic role, defending China with kung-fu against foreign invaders and their guns. Considered a "Hong Kong classic," this film has a very admirable rating of over 4 stars from over 100 reviews on Amazon. For fans of kung-fu movies before there were big production budgets, this is an exceptional choice and the first in a great trilogy of films. It was nominated for Best Picture at the Hong Kong Film Awards, where it also won the award for Best Director, Best Film Editing, Best Original Film Score and Best Action Choreography.
Kung Fu Panda (2008)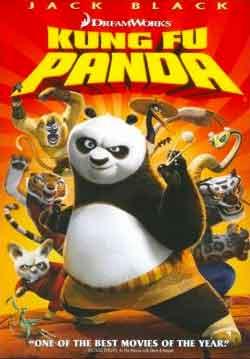 An entirely different kind of martial arts movie, Kung Fu Panda is an animated feature from DreamWorks for both children and the young at heart. It stars anthropomorphic animals in place of their human counterparts. Po the Panda, voiced by Jack Black, appears to be clumsy, obese and uncoordinated, but he is chosen as the Dragon Warrior over seemingly more appropriate martial arts experts. With a good "mix of humor" and "swift martial arts action," Kung Fu Panda has an 87% rating on Rotten Tomatoes and, according to Variety, had an impressive 11 wins at the 36th Annual Annie Awards, including Best Animated Feature, Animated Effects, Character Design in a Feature Production and Storyboarding in a Feature Production.
Ip Man (2008)
With Donnie Yen as Bruce Lee's mentor, Ip Man (originally titled Yip Man) features incredible fight sequences with a man who appears to be soft-spoken and kind, but is incredibly skilled in hand-to-hand and foot-to-foot combat. This is Wing Chun at its finest, providing some historical background to 1930s China and the early beginnings of the Chinese martial art. Ip Man won Best Action Choreography at the 46th Golden Horse Awards and Best Film at the Hong Kong Film Awards.
Seven Samurai (1954)
Legendary Japanese director Akira Kurosawa is regarded as one of the most influential filmmakers of all-time and Seven Samurai is seen by some as his crowning achievement. The over three-hour-long movie depicts a 16th century Japanese village seeking the protection of the seven samurai against marauding bandits. It was nominated for two Academy Awards: Best Art Direction and Best Costume Design. Classic filmmaking enthusiasts and Japanese history buffs will thoroughly enjoy this masterpiece.
Fists and Feet of Fury
With flowing grace and forceful impact, martial arts movies weave incredible choreography and fight sequences with memorable characters and great scenery. The world of cinema would not be the same without them.